E-Learning for Standing Together Against Racism
E-STAR is a project that tackles the topic of racism, in particular that of invisible racism, aiming to provide youth workers with new knowledge and tools useful to foster awareness and learning among young people, fighting discrimination and valuing diversity. International cooperation provides the oppurtunity to exchange good practices, challenges and needs on raising the awareness of young people in their fight against racism.
During the 22 months of the project our goal is to create tools that make the problem of invisible racism visible, prevent it and promote equal relations. Furthermore to create an innovative tool (MOOC Massive Open Online Course) for the online learning of youth workers regarding the prevention of Invisible Racism and good relations, fostering more interactive and sustainable learning.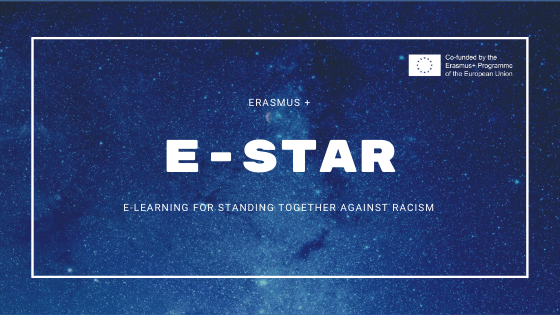 INTERNATIONAL PARTNERS
The international consortium of partners is formed by organisations experienced in non-formal education, human rights education,  peace education campaigns, hate speech and discrimination: CAZALLA Intercultural (Spain), REPLAY Network (Italy), Emberség Erejével Alapítvány (Hungary), TERRAM PACIS (Norway).
Project co-financed by Erasmus+ Youth, Key Action 2 Strategic Innovation Partnerships